News, Events & More
Hello to All our Kentucky Navy Crew!
Posted: 5/29/2020
This is a brief overview of some upcoming Club events in June. Please open up your calendars to record these very important and exciting events!
June 7th at 7:00PM (EDT) is our Virtual Hail and Farewell Event
ZOOM Link
Meeting ID: 875 1608 2090
Password: USNA24
The event will allow our Plebe families to be introduced and learn a bit more about the USNA Parent Club of Kentucky. We will have more information coming out to explain the event.
Since our Hail and Farewell event is in a virtual format, we are hosting smaller in person Plebe Family meetings spread out across the state so we can follow social distancing guidelines. These gatherings are intended to give families the opportunity to ask questions and learn from our more experienced families. The Plebes will have the opportunity to meet some of their fellow Kentucky Plebes before heading to the Yard. We understand that it still may be difficult for some families to attend due to the distance or prior commitments.
The Western KY event will be hosted by Debbie and Todd Conway over the June 6th/7th weekend for the following families: Rathman, Vance, and Hogan. Debbie will be contacting you with specific details.
The Lexington area/Eastern Kentucky event will be hosted by Janet and Chris Gilligan and will include the following families: Crawford, Osborne, Fiscus, and Freihofer. The Gilligan's will be contacting you with more details.
The Louisville area event will be hosted by Lauren Theobald and Dan Huneke on Sunday, June 14th at 1:00PM (EST) — 6302 Wolf Pen Branch Road in Prospect, KY. The following families will be included: McCormick, McQuillen, Floyd, Oser, Roark, and Metel. If someone is unable to attend, we may be able to include you by FaceTime.
More details will be sent out in regards to how we will follow social distancing guidelines, while still having a great time talking NAVY!!!
We also hope to plan an event later in the summer for all our Navy families to gather in person when the guidelines will allow for a larger group.
Plebe families please be aware that you will be receiving a phone call/email from another Club family as our Plebe Family Mentor Program is starting up soon. I hope you enjoy making this connection with an upper class family who can help answer questions and share their Yard experiences!
Lauren Theobald (USNA Parent Club of KY President)
Go Navy! Beat Army!!!
New Bylaws voted upon at Annual Meeting
Posted: 1/17/2020
Please read the new Bylaws
They were voted into effect on January 25, 2020 at the Club Annual Meeting.
Thanks!
2020 Annual Dark Ages Care Package Party
Posted: 1/7/2020
Looking forward to seeing everyone on January 25, 2020!
Invitation to the Annual Care Package Packing Party
Save the Dates!
Posted: 11/26/2019
December 14, 2019  –
Army/Navy Football Watch Party
at Molly Malone's in Louisville (St. Matthews location
Saturday, January 25, 2020  –
Dark Ages Packaging Event and Club Meeting
at 1:00PM (Eastern Time) — To be held in Louisville this year at St. Francis in the Fields Church (6710 Wolf Pen Branch Road, Harrods Creek, KY 40027)–You do not want to miss out on our Annual Care Package Event!!!!
More details to soon follow regarding these events. If you have any questions please contact —Lauren Theobald (502-468-7667) or Denise Hasher Melancon (Social Committee Chairperson 502-554-6905)
Navy Beats Air Force!!
Posted: 10/5/2019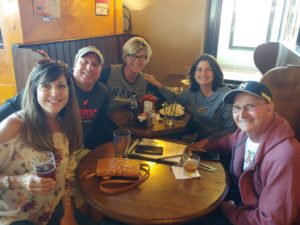 What a Navy game! 😍
Navy vs Air Force – Football 10/5/19 at 3:30pm
Posted: 9/30/2019
To all Navy Football Fans in the Louisville area—Please join the USNA Parent Club of Kentucky to cheer on the Navy Football Team as they take on Air Force this Saturday, October 5th 3:30PM (EST)
Where: Our favorite local watering hole—Molly Malone's Irish Pub in St. Matthews
Time Commitment: Come for the kickoff and stay as long as you can—or stop by after attending the University of Louisville game!
NOT IN THE LOUISVILLE AREA—How about we name spots in the Bowling Green and Lexington areas for Club members to meet up and cheer on our favorite football team!!!
Any questions or suggestions about game day activities—-Please contact Lauren Theobald
Navy plays East Carolina in Football (at Navy) on Sept 14 at 3:30pm
Posted: 9/9/2019
If you are not visiting your Midshipmen for 2cl weekend… get together with other families to watch the game at a local watering hole!
In Louisville, we will gather (as always) at Molly Malone's in St. Matthews.
Let me know where other locations are gathering and I will add to the list.
Its always casual and its always fun!
Go NAVY! Beat ARMY!
2019 All Hands on Deck to Kick Off Navy Football Season!
Posted: 8/27/2019
Come and have fun!
Kentucky USNA 1908 Grad Willis Augustus Lee to be honored
Posted: 7/24/2019
The Louisville Sports Commission operates the Kentucky Sports Hall of Fame, and 1908 USNA graduate Willis Lee will be inducted in the KSHOF Classs of 2019!
Willis Augustus Lee – A native of Natlee in Owen County and U.S. Naval academy graduate, Willis Lee earned seven medals at the 1920 Olympics as a member of the USA Rifle Team, then went on to a distinguished military career as a vice admiral and war hero in the U.S. Navy. 
At the age of 19 in 1907, he became the only American ever to win both the U.S. National High Power Rifle and Pistol championships in the same year, and in 1920 in Antwerp, Belgium, Willis won five Olympic gold, one silver and one bronze – a record for total medals in a single Olympic Games that stood until 1980. 
His medal count: small-bore rifle, standing at 50 meters (gold); free rifle, three positions at 300 meters (gold); military rifle, prone at 300 meters (gold); military rifle, prone at 600 meters (gold); military rifle, prone at 300 meters and 600 meters (gold); military rifle, standing at 300 meters (silver); and running target, single shot (bronze). 
In February 1942, Rear Admiral Lee was assigned to the Pacific Theater and led a task force of American battleships to victory over a larger Japanese force near Guadalcanal that helped turn the tide of war. 
He earned the Navy Cross, the second highest honor awarded by the Navy for extraordinary heroism.
Club Database
Posted: 7/7/2019
With Plebe summer in full swing and the first phone call home this weekend (Sunday), I am busy working to create a current KY Club database of our new Plebe families, current Midshipmen families, and the families of those serving in the Fleet (information is strictly for Club use and is not shared with anyone
else).
If I may ask all of you (Plebe families, Current Mid families, and those in the Fleet) to take a moment to email me (
ltheobal@twc.com
) the following information:
· Plebe or Midshipman full name, year to be commissioned (of if in the Fleet, the year they were commissioned), the high school they attended, and if they are playing a sport at the academy.· Parent names — please include addresses, emails, and phone numbers.
In talking with Jim Goff and Debbie Conway, we are very pleased to announce a mentoring program for new Plebe Families! Once we have all the above contact information, I will be able to match a new Plebe Family with an Upperclassman Family that hopefully resides in their area. While Facebook is a great place to ask questions, the Club mentor will be able to directly talk/text with the Plebe family to give support, share Navy stories, and answer questions—especially over Plebe summer. So please, Upperclassmen Families reach out to me to let me know you are ready to be matched with a New Family!
Lauren Theobald
Mother of Jonathan Shontz (Class of 2014)